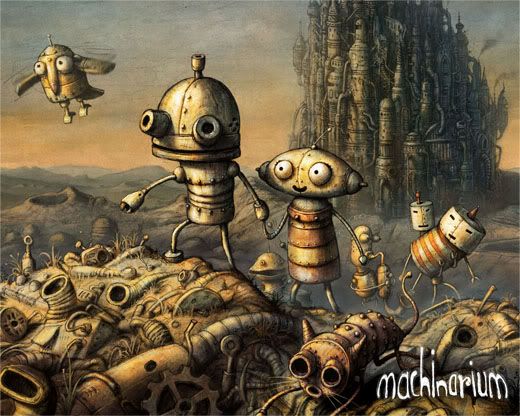 machinarium is a point and click flash game by amanita design from...czech i think. The world is in some kind post apocalyptic scene, where there's no flesh and bone creature, just robot and electricity, in the steam punk color scheme. It's really an awesomely designed game, from the background the character and especially the great soundtrack from tomas dvorak which make this game feel so relaxing (except the puzzle wich is really damn confusing at one time or another).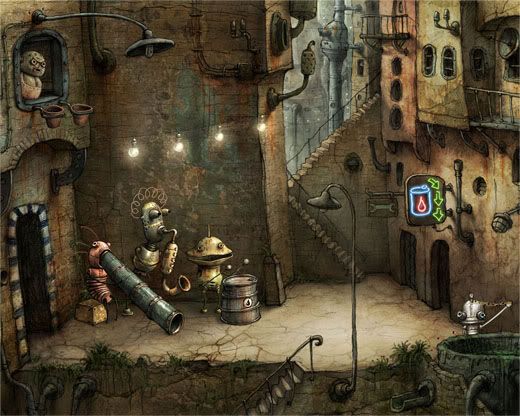 It only contain about 30 level. Some of it are logical point and click usuall stuff, you know, combining stuff, put somewhere, get something, like in a classical point and click kind of detective game. And there are some minigame which kinda frustrating and make you stuck for a long time until...well refresh your mind and think more logically, or just an easy mini game like shooting enemies and get a score. Okay listen!
01 The Bottom
02 The Sea
03 Clockwise Operetta
04 Nanobot Tune
05 The Mezzanine
06 Mr. Handagote
07 Gameboy Tune
08 The Furnace
09 The Black Cap Brotherhood Theme
10 The Prison
11 The Glasshouse With Butterfly
12 The Castle
13 The Elevator
14 The End (Prague Radio)
All track by Tomas Dvorak.
And this is bonus EP, the score that is not in the full album and it's free!
01 The Robot Band Tune
02 Pipe Wrench Dubstep
03 Game In The Brain
04 Defusing The Bomb
05 By The Wall
all track by Tomas Dvorak.
tralalalatrailer...
for more info go to the website
machinarium.net