Expanding her Metropolis Suites series from originally four part onto seven, a woman with many name, and a vision of her own world. The Funky Electric Lady, Janelle Monáe, has released a new album this September. A new experience of her music and character, a multi dimensional album with a little bit more on the Rn'B side.
Metropolis: Suites IV and V / The Electric Lady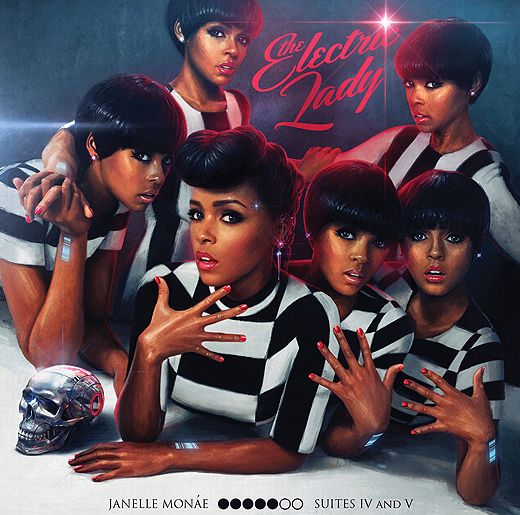 Suite IV
01 Suite IV Electric Overture
02 Givin Em What They Love (featuring Prince)
03 Q.U.E.E.N. (featuring Erykah Badu)
04 Electric Lady (featuring Solange)
05 Good Morning Midnight (Interlude)
06 PrimeTime (featuring Miguel)
07 We Were Rock & Roll
08 The Chrome Shoppe (Interlude)
09 Dance Apocalyptic
10 Look into My Eyes
Suite V
11 Suite V Electric Overture
12 It's Code
13 Ghetto Woman
14 Our Favorite Fugitive (Interlude)
15 Victory
16 Can't Live Without Your Love
17 Sally Ride
18 Dorothy Dandridge Eyes (featuring Esperanza Spalding)
19 What an Experience
Following the concept of dystopian future, cyborg, and all the stuff she made in her Metropolis, and also act as a prequel of The ArchAndroid album, The Electric Lady take more deep into Metropolis using a radio show acted as Interlude between tracks that shows us more of what Metropolis is, with Janelle experimenting the music beyond, funk, punk, gospel, and Rn'B. There's also a lot of guest appearances including big names like Prince, Erykah Badu, also then Solange, Miguel and Esperanza Spalding. There's also three viral video which make a tight grip of the concept of Metropolis.
For me this album is quite tight with the atmosphere of the city, Metropolis, especially because of the radio show type of interlude, which reminds me of Midnight Marauder album from A Tribe Called Quest. Suite IV are definitely the best of all Suite because almost all the song are quite a hit and tight packed with two interlude.
A sweet transition of mood between "Look into My Eyes" to "Suite V Electric Overture" is magical. Then the way her voice are resembling the kid voice of Michael Jackson in the song "It's Code", and guess what? she cover Michael Jackson song "I Want You Back" in the Deluxe Edition version of the album. The album ended with an easy laid back song "What an Experience", the perfect title that describe exactly what i felt after a ride with this album, and here is her live video singing MJ song, "I Want You Back";
--------------------------------------------------------------------------------------------------------
Metropolis: Suites II and III / The ArchAndroid
Suite II
01 Suite II Overture
02 Dance or Die (featuring Saul Williams)
03 Faster
04 Locked Inside
05 Sir Greendown
06 Cold War
07 Tightrope (featuring Big Boi)
08 Neon Gumbo
09 Oh, Maker
10 Come Alive (The War of the Roses)
11 Mushrooms & Roses
Suite III
12 Suite III Overture
13 Neon Valley Street
14 Make the Bus (featuring of Montreal)
15 Wondaland
16 57821 (featuring Deep Cotton)
17 Say You'll Go
18 BabopbyeYa
Funk, hip-hop, soul, classical, etc. Well if you're a fan of collecting old music in vinyl, perhaps you can even label all the genre in this album, and also name every artist she inspired in this album and that's a lot. And also Clair de Lune sample? I've been listening to a sample of this record on some modern record also. You can't define what genre this album is, as she was saying in the rap lyrics on the song "Q.U.E.E.N." in The Electric Lady, about people (reporter) try to label her and she defy every label stuff.
This album is so fresh, especially in the trilogy track "Dance or Die", "Faster", "Locked Inside", these three, it's so addictive i find myself repeating it time to time. Some addictive track is obviously the funky "Tightrope", the full potential of Janelle voice on this album on "Oh, Maker". Awesome beat on "Neon Valley Street" and "Wondaland" both of which i think is refer to a place in Metropolis. I think "Neon Gumbo" is a sequel queue from the track "Many Moons" on the Suite I. "Sir Greendown" obviously refers to Cindi's boyfie, Anthony Greendown. Then "57821" is droid number of Cindi Mayweather.
--------------------------------------------------------------------------------------------------------
Metropolis: Suite I (The Chase)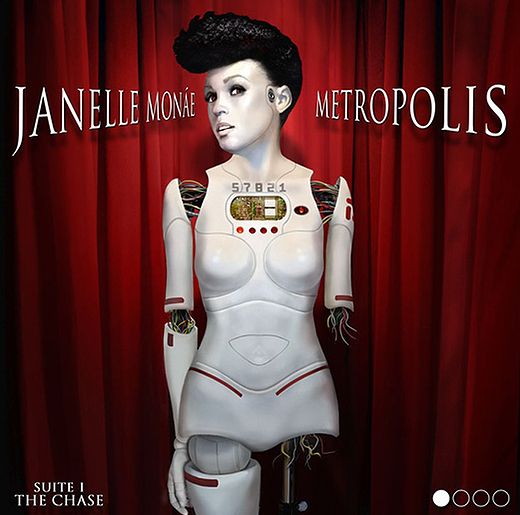 Suite I
01 March of the Wolfmasters
02 Violet Stars Happy Hunting! (featuring The Skunks)
03 Many Moons
04 Cybertronic Purgatory
05 Sincerely, Jane.
Suite I is very short, the highlight on the album is the critical acclaimed tracks "Many Moons" and "Violet Stars Happy Hunting!", these to are also connected as a continuation trilogy with the first track "March of the Wolfmasters". This album is the official beginning of the Suite series which tell a tale of interplanetary, future-past robot love of Cindi Mayweather and Anthony Greendown.
--------------------------------------------------------------------------------------------------------
Metropolis: Point Zero / The Audition
01 Intro
02 Lettin' Go
03 Party Girl
04 Metropolis
05 Cindi
06 It's Not Fair
07 Time Will Reveal
08 My Favorite Nothing
09 Warm Up (Cloud 9) (interlude)
10 Cloud 9
11 Star
12 I Won't Let Go (instrumental)
13 You
14 You Are My Everything
The Audition is pretty much an Rn'B album, most of the song are not filled with layered atmosphere of strings and classical music approach like in her Metropolis Suites. As in the song "Cindi" are pretty much like listening to a disney princess singing beautifully and some funk insert on "My Favorite Nothing". But it's obvious the Metropolis concept is already there. The song "Metropolis" and "Cindi", obviously.
I would say that all the lyrics on all albums represent the storyline of the Metropolis suite series, the world that Janelle created that obviously inspired by a two and a half hour black and white German silent movie; "Metropolis", directed by Austrian director Fritz lang. The concept itself is already appear in The Audition. The mention of the boyfriend of Cindi Mayweather; Anthony Greenwood. Her inspiration are ranged from Fritz Lang, Alfred Hitchcock and Philip K. Dick for her story.
If you really follow her lyric and story for quite some times, you'll notice a story like dystopian future, the opressed and the rich, android, bounty hunter, clones, a concept of apocalypse, secret society, and time travel. She show it all on the videoclip on what kind of world she's in, and recently she's expanding it in The Electric Lady viral video, which is quite awesome. We can also see some fictional place inside Janelle's Metropolis, like Neon Valley Street, Ministry of the Droids, and The Palace of The Dogs? Also the year is 3000 something, from the lyric, wow Janelle.
She's definitely an amazing type of nerd to put it all up on her works. She also planned to make a video of each song on The ArchAndroid album, to make something like a movie, and here i'm just dying to wait. This thing will make an awesome graphic novel and movie. The suite is almost complete, perhaps the next album will complete the story, wrap it, then move to a new story, or might she be expanding it again?
Her live show is another thing. She's totally own the stage on every live show i've seen on youtube. TV show? Big festival stage? She own it. Her live is not the concert i ever wanna missed. She's definitely something i have to watch live! Video below is the four first song on The ArchAndroid (the one i abusively repeat time to time), enjoy!
But wait a minute, wait—a—minute. I just found a coincidence about the name Janelle Monáe. The Initial is JM, and if you reverse it, it would be none other than MJ! Michael Jackson! I think that explain why her voice is so close to his voice color. She's the reincar— uuugghh yeaaaah whateverrr, nevermind.